Top 10 Favorite Amazonian Women Artwork From Amy's Conquest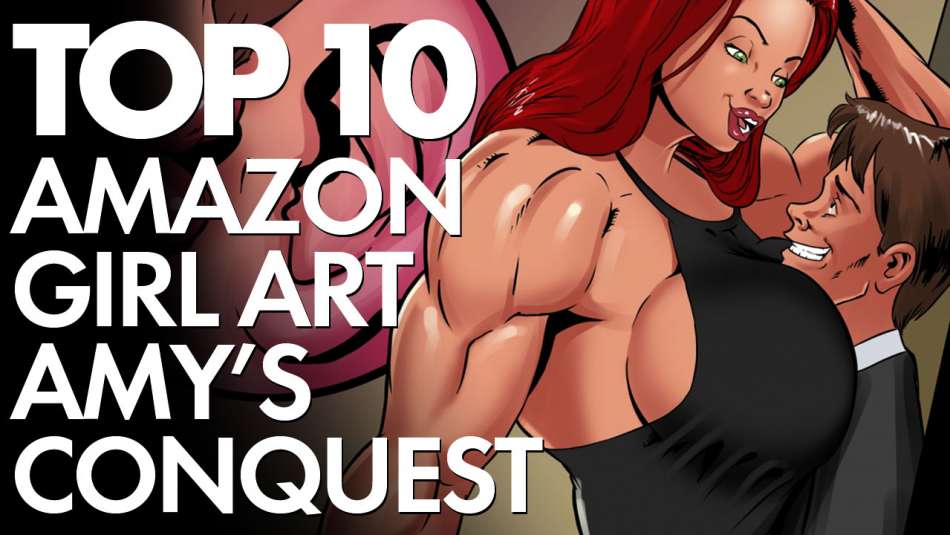 Here is a top 10 list of our favorite muscle babes from Amy's Conquest, the most incredible website of illustrated stories based on Amazonian inspired tales. Where a talented group of artists and authors bring these fantasy muscle girls to life for you to witness and enjoy. From being girlishly playful, to crushing you with their strength, to being powerfully protective and to being viciously vengeful, these girls know how to use their hard, strong, buff bodies to their full advantage!

1. Amy Hardstone (Amy's Conquest Series)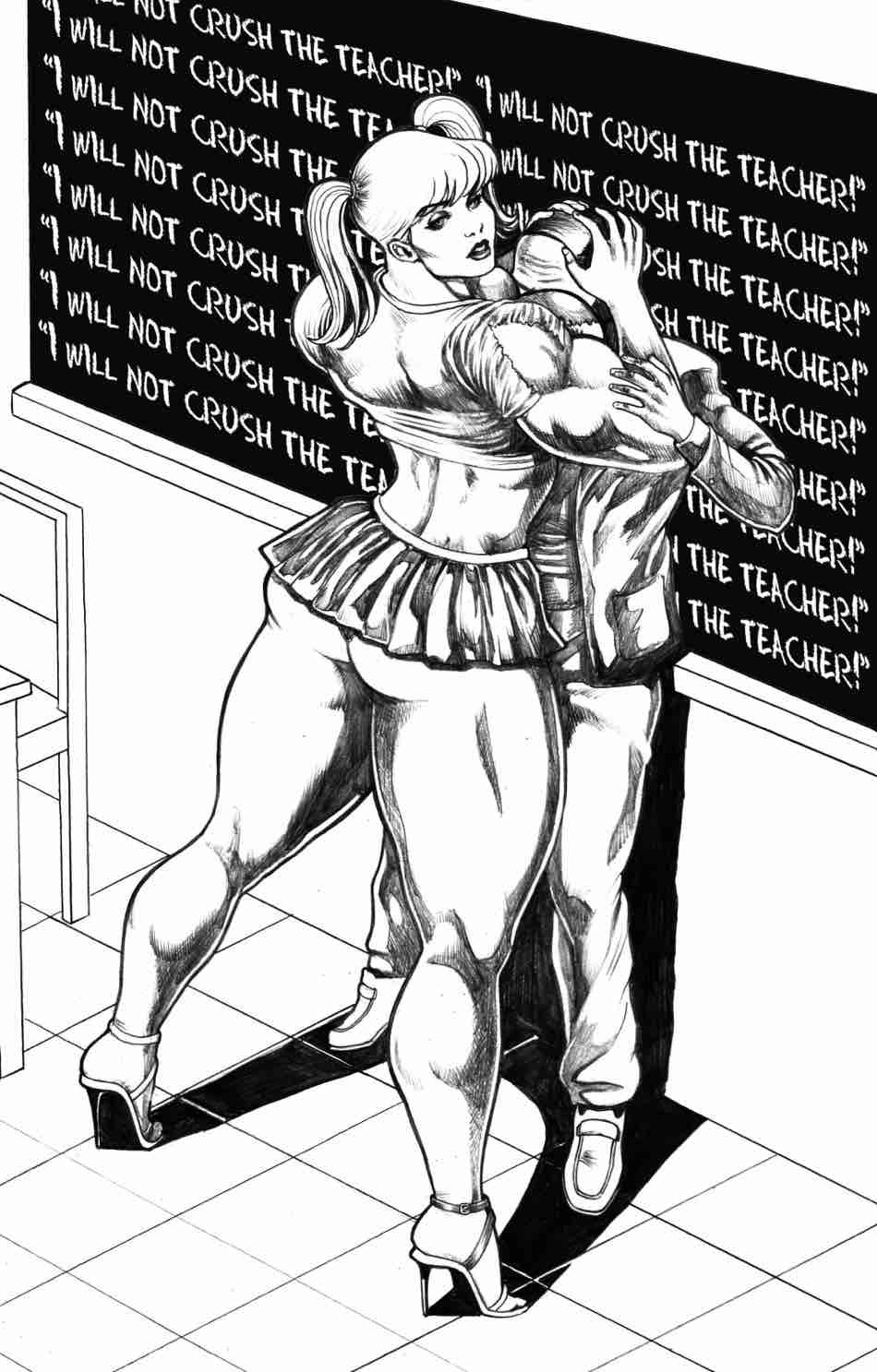 The Ultimate in amazing muscle girls! From birth, actually from conception, buxom, blonde, buff bombshell Amy lead the life of female superiority and power, thanks in no small part to her Muscle Mom, Elizabeth. She relishes crushing men within her mighty limbs, especially using them for her sexual pleasure! The perfection combination of girlish playfulness, crushing muscularity and unrivaled sensuousness, Amy is without a doubt the pinnacle of Feminine Strength and Sexuality.
2. Sharon (Sharon - Redux)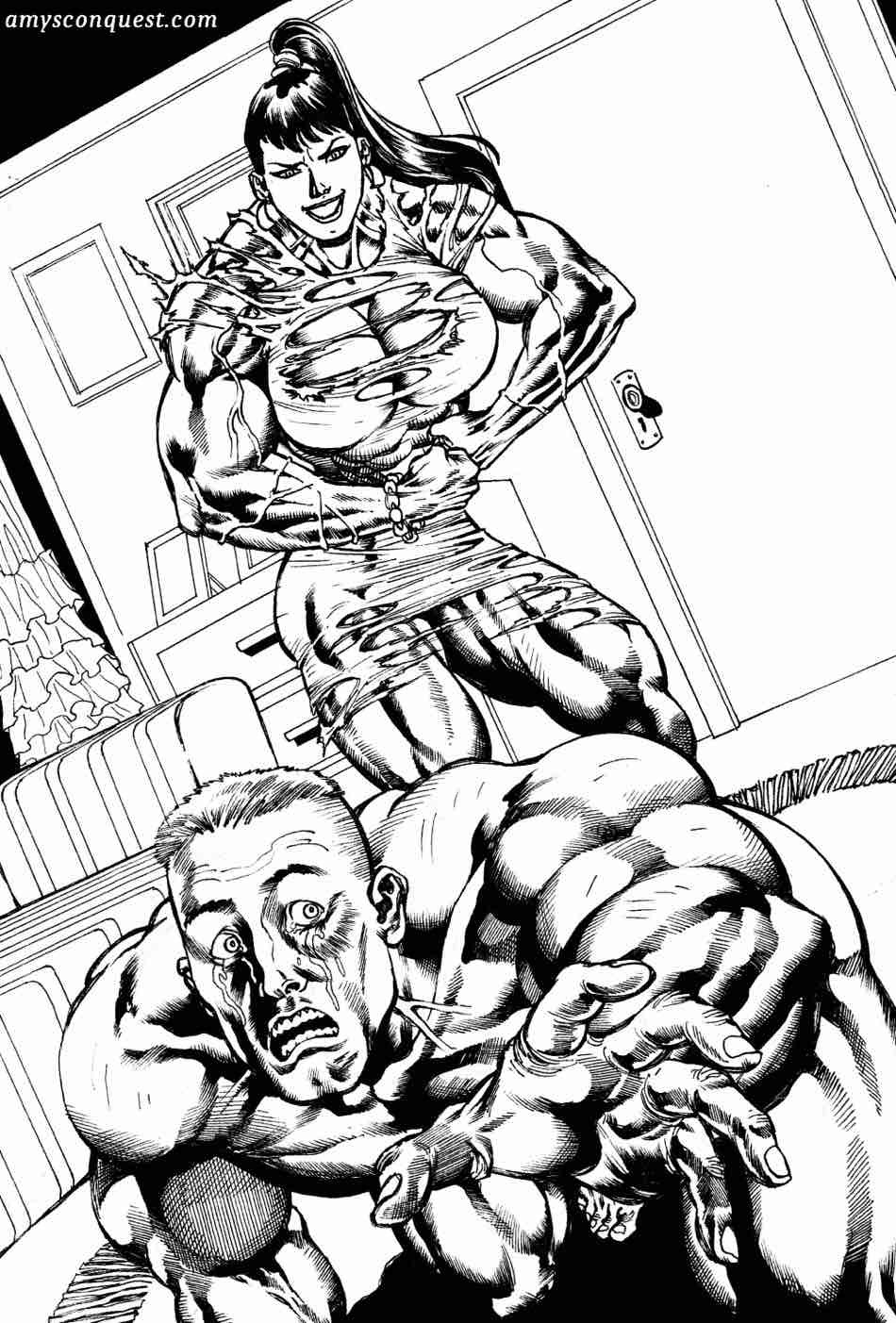 Confidence, Dominance, Power! These words and so much more describe this young Amazon girl, whose muscles are as big and hard, as her body is curvaceous and shapely. Sharon just loves putting macho guys in their place, teaching them their much deserved lessons, taking what she wants from them and discarding the rest - and no matter how big they are, they all Fall before her superior strength and rock solid body.
3. MICHELLE BUCK (The General's Daughter)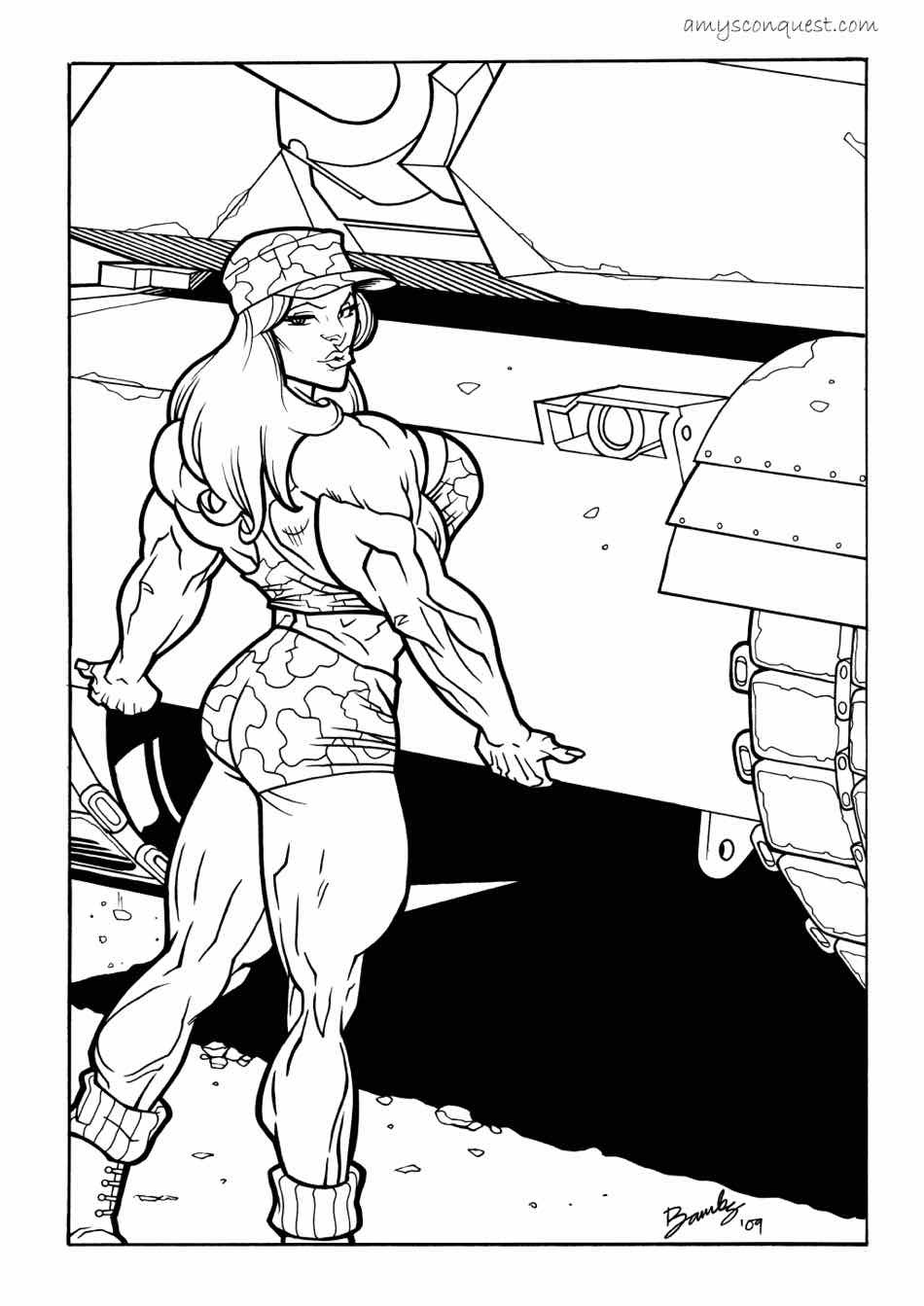 What do you do when you're the daughter of an Army General, anything you want! Of course, having vast superhuman strength and steel hard muscles also helps. Michelle just loves showing off her unreal physical abilities, especially at her Dad's base, while performing an all too sexy strength show for his men; lifting tanks, taking artillery fire, all child's play for this Sexy Supergirl!
4. VANESSA & DEBBIE (One Boring Friday Night)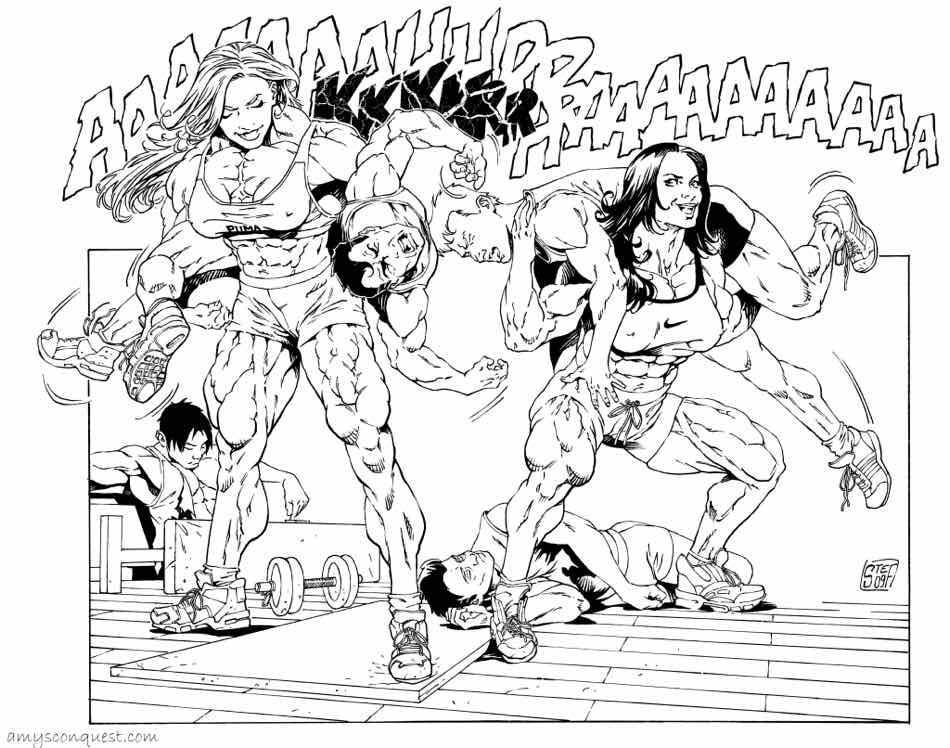 This pair of Titanic Temptresses just love showing off their unreal strength any men around them, getting such physically inferior males both Intimidated and Aroused was the ultimate thrill for these two. Of course, when two 6' 6" muscle-bound beauties are out for their sexual pleasures, Any man in their vicinity (even avid gym-goers and muscleheads) are fair game to be used and abused by these Vicious Vixens!
5. SANDI STONE (Sandi Stone Series)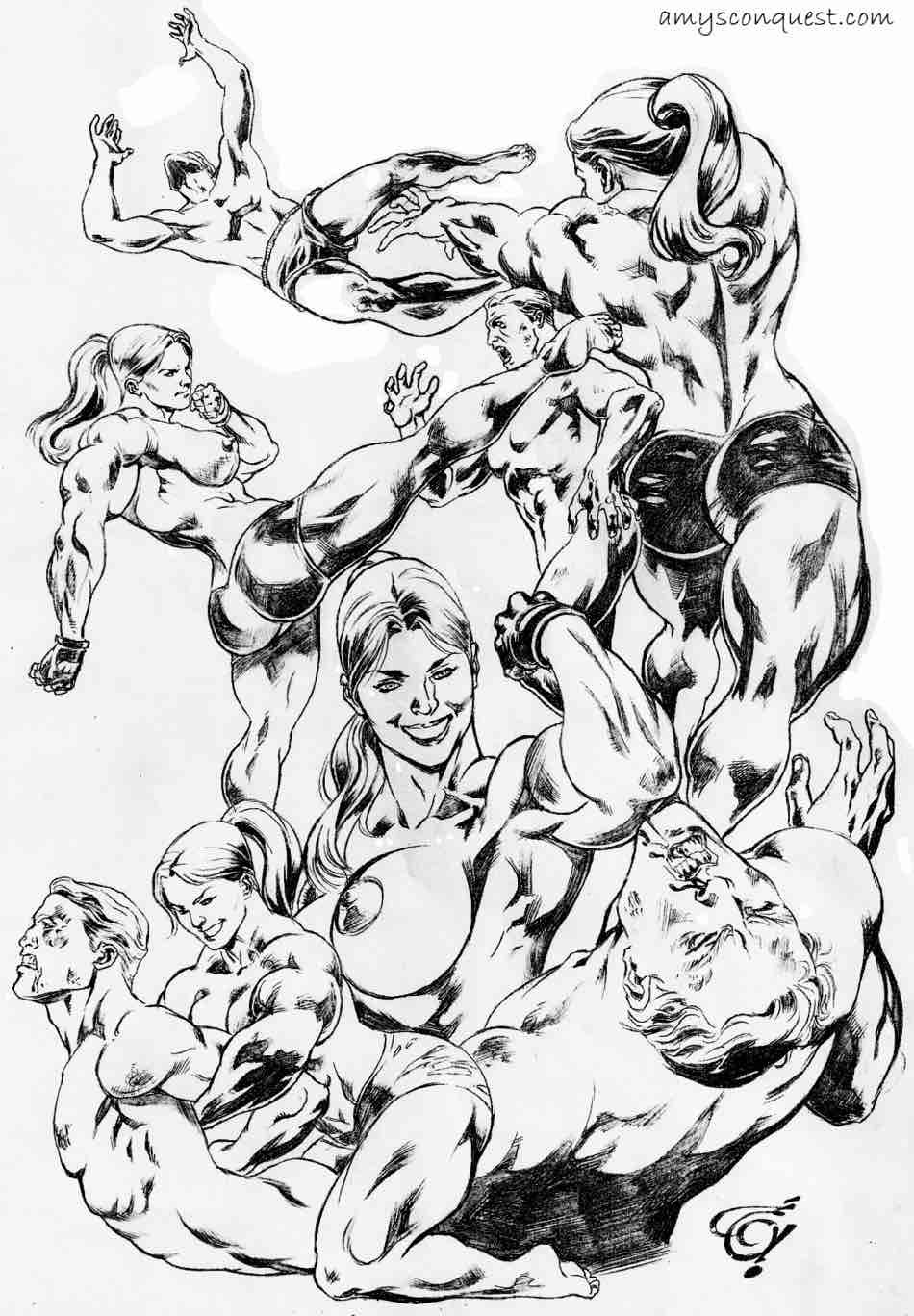 Destroyer of men, champion of women, someone who could dislocate your shoulder or turn your guts to mush just as easily as she could put her long blonde hair in her classic ponytail. The ultimate fighter in and out of the ring, Sandi cannot get enough of using her massive muscles and unreal fighting skills to turn any who oppose her, or anyone she deems deserving of a beating, into crying, helpless babies.
6. JANE (Amazon Jane)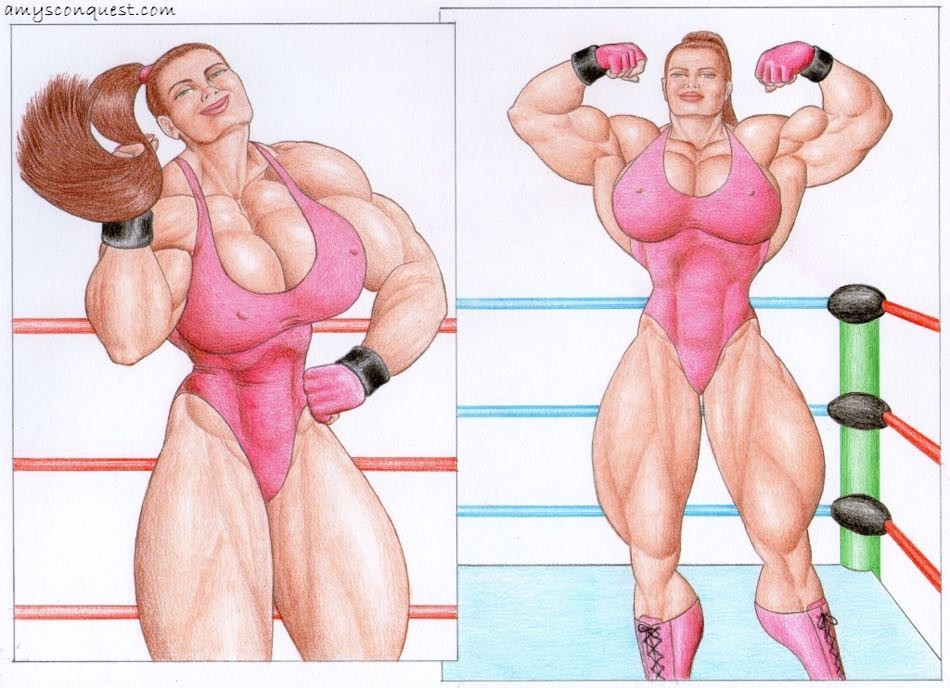 A massively muscled beauty, part nurse/part MAA fighter, Jane has a heart as big as her muscles. So when she develops a crush on her hunky new neighbor, she feels its her job to protect him from harm; that means taking his place in a Tough Man competition (after knocking the handsome stud out first), allowing her to demolish all competitors, keeping her man safe and well, as she takes him back home for a very Sexy Celebration!
7. SALLY HENDERSON (Sally: The Strongest Girl In The World Series)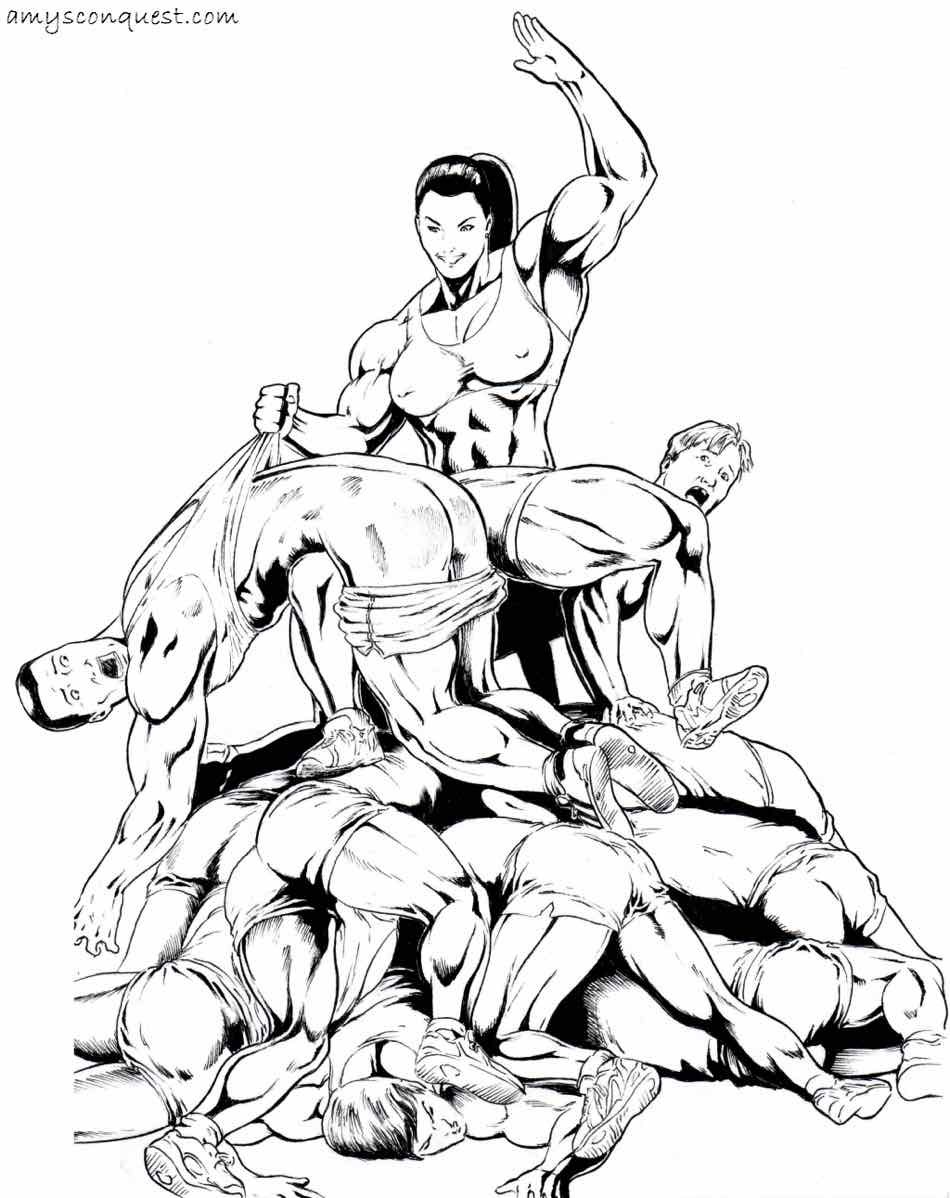 This girl thinks of herself as The Strongest Girl In The World, and she may very well be right! Never one to abuse the power of her super thick, ultra dense muscles, though Sally just hates bullies, so she feels it's her right to deal with them All, her way; turning them from cocky jocks to obedient men. From a top athlete, to beauty queen, this muscle girl can do it all!
8. ALYSSA (In Search Of A Goddess Series)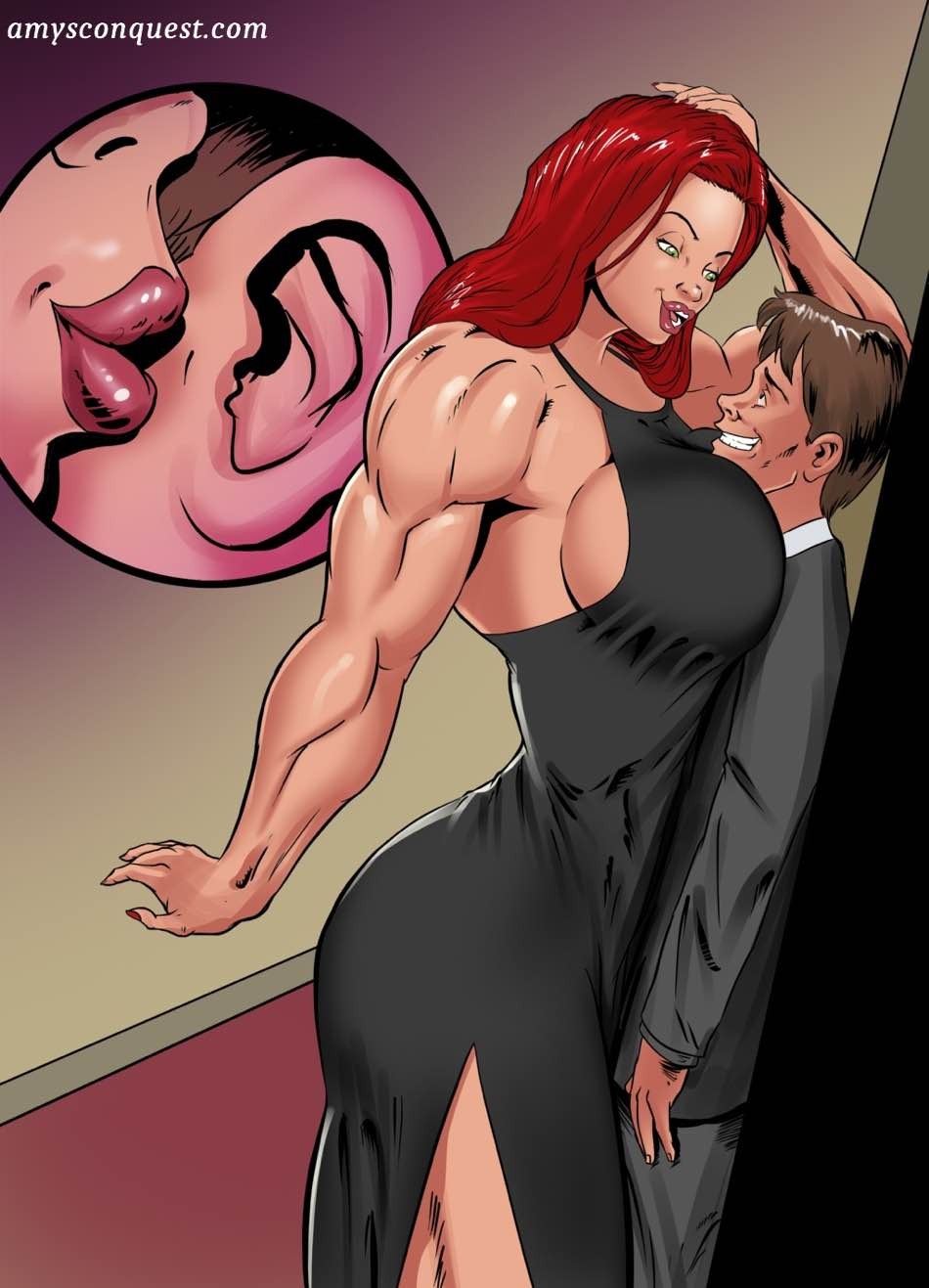 Some girls are bred to be Amazons, while a select few are born to Goddess-hood! Such is the case of beautiful red-head, Alyssa, who one day discovered her buff, muscle-packed body was so much stronger than she imagined; putting her at odds from those that wanted her kind "removed", though much closer to her adorable little neighbor, who helps her in her quest, as she helps him with the Joys of being with a Goddess.
9. DAWN (Dawn Of An Amazon Series)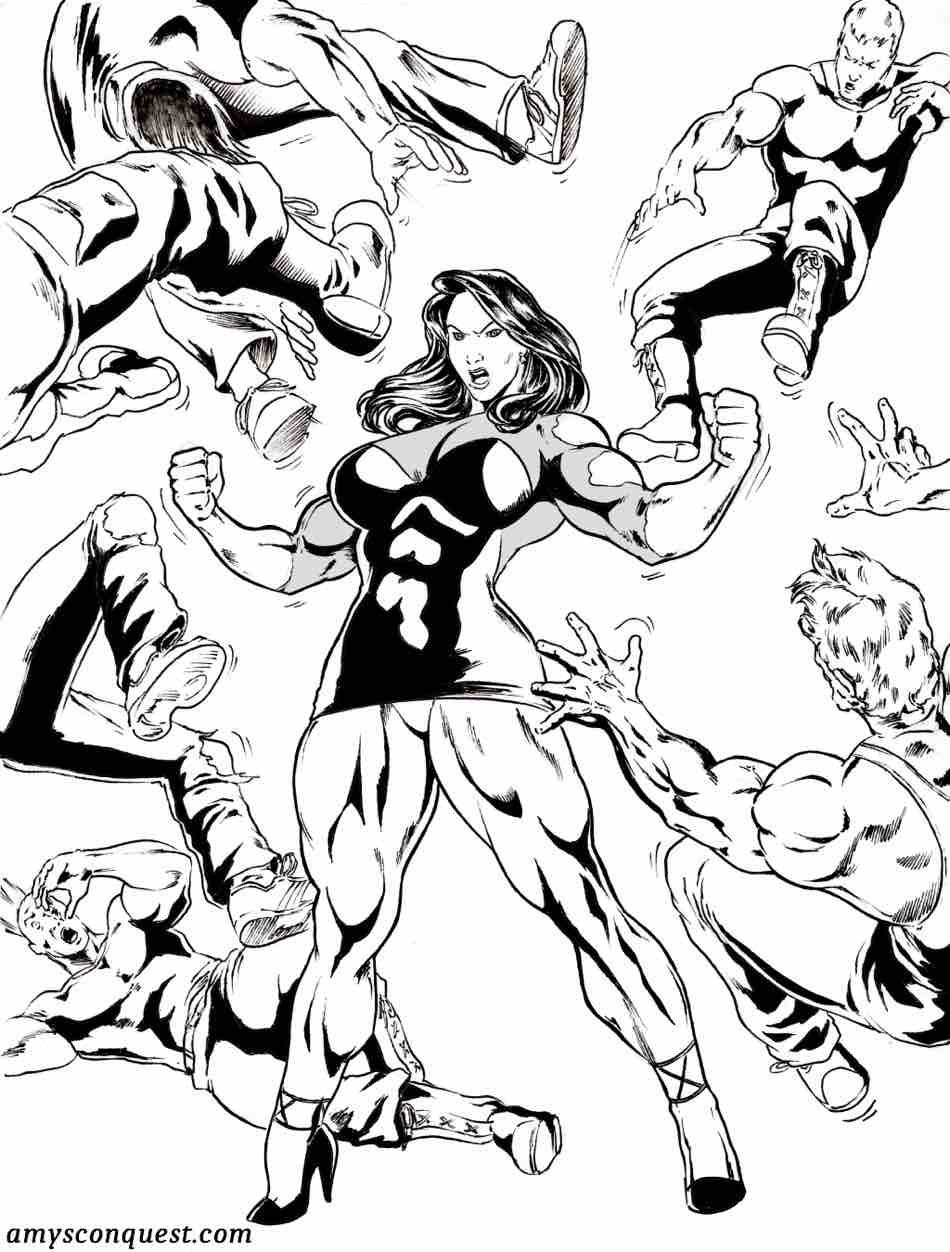 After discovering that she came from a line of actual Amazons, Dawn was brought into a new and sexily exciting world. Her shapely frame quickly becoming more fit and muscular as she performed her superhuman exercises, she fulfilled every one of her boyfriend's muscle-loving desires (not to mention harshly avenging his attack from a vicious gang), while taking her rightful place among her kind.
10. DIANA (Diana's Golden Thighs)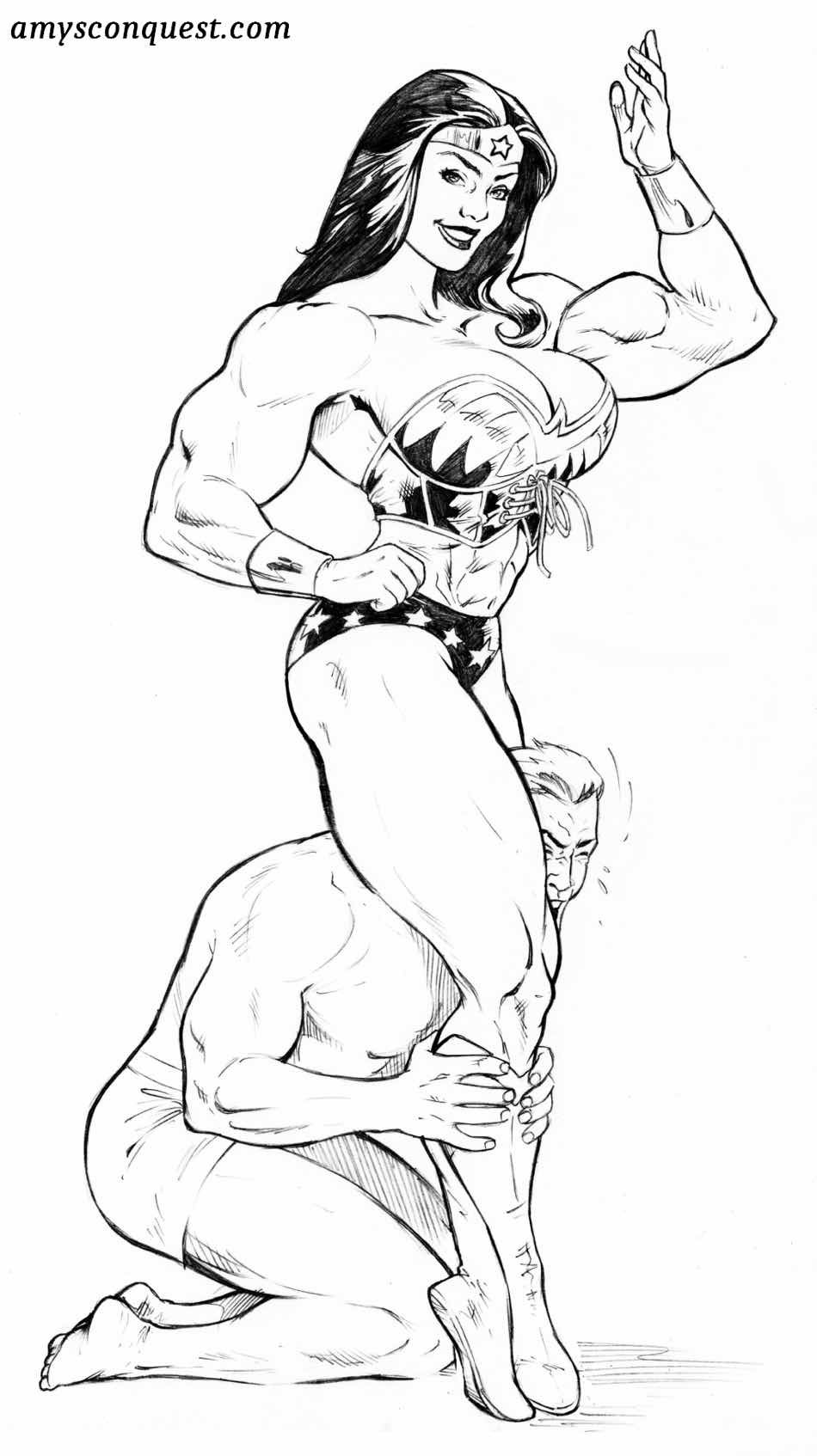 A near perfect physical match of everyone's favorite Amazon Superheroine, Diana is very well versed in using her long, shapely, rock-crushing legs to get what she wants from the men in her life. Whether to a better grade from a lecherous professor, or to teach a cheating boyfriend the error of his ways, once she has her golden thighs wrapped around you, you're helpless to resist – or do anything at all!
If you love huge girls with muscle and you have ever had the fantasy of being overpowered by their feminine strength and sexuality be sure to check out this amazing website!
Visit Amy's Conquest and experience more of these Amazonian women.

most recent posts