Gym Lingo You Need to Know [Top 10]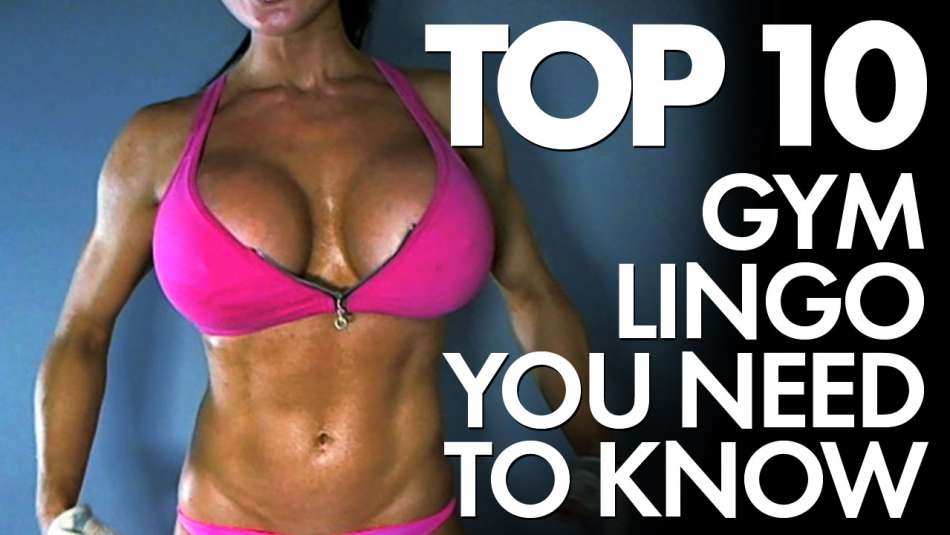 Consider this a public service from us here at Muscle Girl Magazine to you and this is surely not anything that is available on one of those annoying Rosetta Stone commercials. Take it for what it's worth – knowing what the hell people are talking about in the gym will avoid some uncomfortable moments when a meathead says something to you and a proper response would be needed.
First of all, 'gym speak' has different dialects, but most versions will carry over from one area to another, albeit with subtle differences. Not enough to confuse you for long, though. But what frequently is believed to be a correct term is actually not, but rather one that has become accepted after so long.
Here's a perfect example: When someone tells you that you should do super sets with the 40-pound dumbbells for seated bicep curls and then grab the 25s, that is incorrect gym lingo. The correct term for that is drop down sets and a super set is actually doing two different consecutive exercises without a rest period, for either the same or a different body part.
10. SWOLE
Pumped, big, huge…you know what we mean. Getting your swole on means that point in your workout when you are warmed up and the muscles are full of blood.
9. SWOLE MATES
A take on the expression 'soul mates' with a guy and a girl dating and training together. Those who sweat together sweat together…get it?
8. GAINS or GAINZ
Putting on some quality muscle size. Both spellings mean the same thing.
7. PUMPED UP
Pretty self-explanatory, but can be used for when you have a pump after doing a set and mentally prepared to take on a workout. Ready to run through a brick wall type of shit.
6. JACKED
When you're jacked, you're built…and the type of person that no one wants to mess with.
5. GIVING A SPOT
Helping a fellow gym member with his or her set so they don't drop the weight on their face and get all screwed up. Especially important for heavy compound lifts like the bench press and squat.
4. WORKING IN
If you want to use the same bench or machine that is occupied, working in is when you perform your set while the other person is resting in between theirs. Ask nicely.
3. SCHMOE
A guy who is into muscular people – either men or women depending on their sexual orientation. If your gym has a lot of female bodybuilders in it, you probably also see a few nerdy looking guys there, too. They are the perfect bait for muscle fetish sessions.
2. GYM RAT or GYM JUNKIE
Someone who spends most of their time at the gym, training more than once a day and also bullshitting at the juice bar in between.
1. DOUCHE BAG
OK, this isn't really part of gym lingo. But it fits for the people who never re-rack their weights and/or bring a towel. They leave the bar loaded up with 45-pound plates, dumbbells all over the floor and sweat on the bench. Complete douche bags, for sure.
So that's our "top 10 gym lingo you need to know list". It's little stuff like that which can get a little confusing when you're not used to it yet. But then there are some of the newer phrases that can be useful in the gym and also on social media.
most recent posts